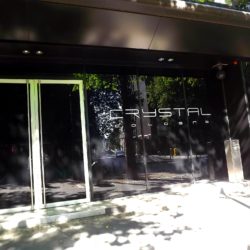 Crystal Cologne
Hohenzollernring 79-83
Cologne
,
50672
Germany
+49 (0) 178 818 67 49
Price : $$ (Moderate)
About Crystal Cologne

No one would expect the paradise that lays behind the doors of Crystal situated in Cologne.

The minimalist style of the club convinced without frills and symbolizes its seriousness. Behind the black tinted windows of the Crystal Cologne are two levels of pure entertainment. The latest sound and light technology characterize the location with a smoking area – the Crystal Cologne does what it promises. And it promises a lot.

Music for the soul to the body, passes through and show acts which give life to the uniform dignified life style, powdered with the urban trendsetters of Cologne.

With the guests as their motto, Crystal has put together an innovative program while Fridays consist of the finest R'n'B paired with resounding house music, Saturdays are dedicated to the best operators in the region!
Facebook