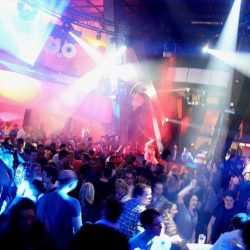 Königsburg
Königstrasse 8
Krefeld
,
47798
Germany
+49 2151 567 850
About Königsburg

The centrally located "Königsburg" castle is an integral part of Krefeld's history. With its innovative design, combined with a more rustic architectural note, the charming venue attracts a mixed crowd in their twenties

Once inside, a kingdom of party highlights is awaiting the curious partygoer, offering something for every music taste in several differently named areas. From House, Electro and Charts, HipHop, R'n'B and Soul to Minimal, Techno and Party Classics pretty much every genre is catered for. Especially impressive are the catacombs, where you can enjoy the special underground ambiance and great sound to Minimal and Electro beats.

A well-equipped bar, balustrades, pillars and concrete steps for the extra touch of medieval ambiance as well as fontaines and a swimming pool complete the uniqueness of the place.

For local standards the club is a little overpriced, but if you come before midnight, you'll score free entry.
Photos
Videos
Facebook
Twitter
https://twitter.com/KoenigsburgKR/statuses/