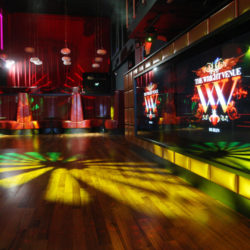 The Wright Venue
South Quarter, Airside
Dublin
,
Ireland
+353 1 8900099
Price : $$$ (Expensive)
About The Wright Venue

The main night club at the Wright Venue is almost difficult to sum up in words, think of the most glamorous, sophisticated, elegant, but sexy surrounding you can imagine! You will get all this in the main night club… its theatrical, extravagant, yet comfortable and welcoming. Your eyes will be captivated as soon as you enter the enormous room by the many extraordinary features, such as the huge chandeliers, the globe-like disco ball, the beautiful and elegant lamps and opera-style drapery and special effect features, such as expressional faces carved into the walls. As well as having elegance, this nightclub has many sexy and sophisticated features, such as, the four podiums surrounding the dance-floor, providing a place for the many talented dancers to create a show like no other in Ireland. The integrated DJ-box is home to one of the most sophisticated sound and light systems in the world and promises the presence of some of the most celebrated DJ's on the planet.
Photos
Music
Facebook
Twitter
https://twitter.com/thewrightvenue/statuses/