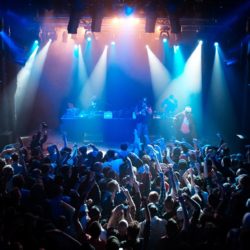 Train Nightclub
Aarhus
,
01
Denmark
+45 86 13 47 22
About Train Nightclub

Welcome to Train Nightclub.
Since 1998 this high profile venue's focus has been on quality music, artists and services.
Head down to Train to experience nightlife on a whole new level.
Mixing live concerts and DJ's means the venue caters to all tastes.
Experience live music at its best, hang out in one of Train's 3 nightclubs where DJ's keep things lively from the DJ booth, or head to the trendy lounge that offers a place to chill out, drink and socialize.
Past international performances have included: Public Enemy, Interpol, Chris Cornell, N * E * R * D, Kings Of Convenience, Patti Smith, Gavin DeGraw, Ice Cube , Kaiser Chiefs, Billy Idol, Babyshambles, Judas Priest, Black Rebel Motorcycle Club, Rickie Lee Jones, The Pretenders, Primus, John Mayall, Dio, Emmylou Harris, Robert Plant, Wolfmother, Foals, Editors, The Cult, Thin Lizzy, Machine Head , The Cardigans, Method Man & Redman, Einsturzende Neubauten, Herbie Hancock, The Pretenders, Slash, The Whitest Boy Alive, Zakk Wylde, Gotan Project, John Scofield, Xzibit, Macy Gray, Chamillionaire, Marianne Faithfull, 3 Doors Down and The Game while national performances have included artists like:Nephew, LOC, Volbeat, Aqua, Kashmir, Sanne Salamonsen, Tim Christensen, Nik & Jay, Kim Larsen, Milk Inc., tv2, Veto, CV Jørgensen, Mew, Tina Dickow, Medina, Spleen United, Bikstok Røgsystem, Black Sun, Turboweekend, Anne Linnet, Teitur, The Only Two, Lars HUG, Susperia, Rasmus Seebach, Love Shop, Lis Sorensen, Carpark North, Infernal, Hatesphere, Dúné, Big Fat Snake, When Saints Go Machine, Alphabeat, Johnny Madsen, The Mad Bag , Allan Olsen, Burhan G..