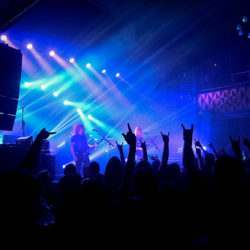 Vega
Enghavevej 40
copenhagen
,
1674
Denmark
+45 33 25 70 11
About Vega

VEGA is situated in Copenhagen and created for the sole purpose of concerts and club nights.

With 250,000 visitors in 2011, the venue was even voted the best concert scene in Europe by the international music magazine Live.

Equipped with three separate concert halls, VEGA hosts a diverse lineup and with 250 concerts and club nights taking place annually, there is something for every taste.

The large concert hall, Store VEGA, has capacity for 1,550 guests, the middle floor, Lille VEGA, has room for 500, and there is room for 250 guests in Ideal Bar.

Indulge in 12 bars, rock, pop, soul, hip hop, electronic and world music and feel the vibrancy of VEGA's various club concepts!
Photos
Facebook