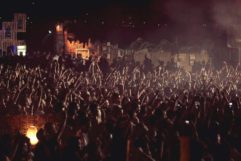 About Calvi on the Rocks

Calvi on the Rocks is the festival of choice for the Parisian chic crowd. By day, beach party: bikinis, shorts and shades, dancing in the waves to the finest DJs, beach shacks, sun loungers, cocktails from beach bars.

As the sun sets over Calvi port, the action moves to venues in Calvi Town. At Theatre de Verdure: live bands and electronic artists, beside the sea under cliffs topped by the citadel. DJs play from 2am through to dawn in the historic Chez Tao cabaret: views out over the Bay of Calvi from a room buried in the heart of the citadel make this the perfect place to see the night out. Alternatively, Eden club hosts label nights curated by Trax magazine: expect electronic music to keep you dancing.
Facebook
Maps