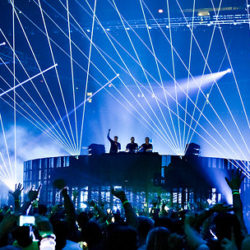 Madison Square Garden
Madison Square Garden
4 Pennsylvania Plaza
New York
,
NY
10001
United States
+1 (866) 858-0008
About Madison Square Garden

Madison Square Garden, located in midtown Manhattan is one of the world's finest arenas.
Opened in 1968, Madison Square Garden has made entertainment history as host to some of the greatest musical performances, circuses and professional basketball, ice hockey and boxing tournaments, it has also appeared or been referenced to in numerous television programs and movies.
Hundreds of well known musicians and celebrities pass through the venue each year. The Beatles, Michael Jackson, Led Zeppelin, Bruce Springsteen, Billy Joel,Alicia Keys and roger Waters are just a few of the famous faces who have performed at the venue over the years.
Although Madison Square Garden is now one of the oldest active sports facilities in the New York metropolitan area, it annually hosts 320 events each year and rightfully holds the title of, "The World's most Famous Arena".
Photos
Facebook
Twitter
https://twitter.com/@TheGarden/statuses/