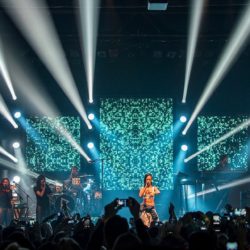 The Danforth Music Hall
147 Danforth Avenue
Toronto
,
ON
M4K 1N2
416-778-8163
About The Danforth Music Hall

The Danforth Music Hall sits in Ontario catering to the needs of its locals and passerbys.

While the Danforth Music Hall appears to be beaten and worn on the outside, you'll get a breathtaking surprise upon entering. Modern and aesthetically pleasing inside, the venue hosts an array of events from live concerts to DJ sets to the moody blues, the Danforth boasts being a diverse space for all.

Indulge in beverages and light snacks in the lobby and hit the main hall where sloped floors allow everybody to get a good, clear view of the stage and acoustics are impeccable.

Whether you want to sit in the second floor balcony, or stand on the main floor so you can move to the beat, the Danforth Music Hall is all quality, every amenity thought of with you in mind!
Photos
Facebook
Twitter
https://twitter.com/thedanforthmh/statuses/