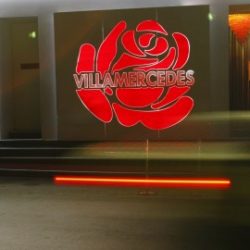 Villa Mercedes
Andronikou & Tzaferi 11
Athens
,
11854
Greece
+30 21 0342 2606
About Villa Mercedes

Villa Mercedes is glamorous, swanky, and purely the upmarket and high class club restaurant in Athens, owned by Vassili Tsilichristos.
Restaurant / Private Cocktail Bar is dressed in bitter chocolate contrasts with a touch of black velvet, boasting chandeliers, fabric-draped walls and red roses baccarat. Highlights are the daiquiri ice crystals and also the woven leather brown curtains and seal black candles that dominates the entrance. The Club / VIP Lounge is characterized in a sexy deep cooper metallic touches, midnight black dancefloor, top of the line sound system and panoramic view for the guests. The restaurant's unique style once again stands out with its Meditasian Nouvelle cuisine introduced by Chef Kostas Terzoudis.
Photos
Videos
Facebook