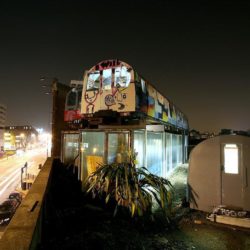 Village Underground
54 Holywell Lane
London
,
EC2A 3PQ
United Kingdom
+44 (0) 20 7422 7505
About Village Underground

Situated in East London, the Village Underground is a unique part creative community, part arts venue.

The main venue is a renovated warehouse equipped with everything you need for concerts and club nights to exhibitions, theatre, live art and more!

Other parts of the creative project include four recycled Jubilee line train carriages and shipping containers which make up the creative studios of Village Underground accommodating 50 artists, writers, designers, filmmakers, VJ's and musicians working alongside each other to create unthinkable masterpieces.

Join the Village Underground for an inspiring night out in East London!
Facebook